Standards and the Politics of Design
Although I did not intend it, standards and style guides have been part of my work. They can be a "mixed blessing." When they suceed, they encapsulate the best thinking of a group of designers or engineers. But, they can be hard to create, and once created, they may not be followed. Worse, they may not actually work to improve usability, but simply create rules to be followed.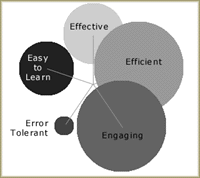 The 5 E's of Use help us visualize the balance of needs for each dimension of usability and guides design choices.
Usability Standards: Connecting Practice Around the World
Proceedings of the IEEE International Professional Communication Conference (IPCC), July 2005, pages 451-457
Building Blocks to a Body of Knowledge for User-Centered Design: To Certify or Not to Certify
Usability Interface, STC Usability SIG, April 2002
A report on activities investigating certification for usability professionals.
Building A Better Style Guide
Proceedings of Usability Professionals' Association, 2001
A report on ways of using style guides to build consensus within a design team (Presentation Handouts)
Using a Style Guide to Build Consensus
Usability Interface, STC Usability SIG, April 2001
A short introduction to the social aspects of style guides.
Reading to Do: Creating Documents That Lead to Actions
I was an invited speaker at the NIST Workshop on Usability and the Web
Related articles